This is the first post of my personal blog. I've decided it's finally time to do some more writing about my thoughts and experiences. Before today, I just posted some of my favorite pics I've taken over the years on this site…it's even been a while since I added any new photos, will get to that soon too!
I recently traveled to Austin, TX where I attended NamesCon 2023. While there I was asked by a colleague why we don't publicize our domain sales and prices at Grit Brokerage more often? While some are under NDA, we have a similar stance to what Drew Rosener stated on a recent DomainSherpa episode (can't find the exact episode). Basically he said that those are not 'our' sales to share, they are our clients sales. We also respect our clients privacy and if they want a sale price to be public, they will share it on their own accord. That said, I believe it is important to have domain sales data out there and I greatly appreciate those that share or source domain sales for the education and benefit of our great industry.

I've never really shared much about my personal domain portfolio or sales publicly except to some friends or colleagues that I talk often to or see at conferences, etc. But I've decided it's about time to start sharing what I can to provide peers with insights and sales data. I need to do my part to keep pushing our industry forward! It has been a great year so far with regards to brokerage sales and that is where I earn a majority of my income with domain names. I've also had a solid few months selling names from my own collection as well. I have two of my personal sales from this year that I'm going to make public today.

1. Finmed.com sale price: $30,000 – brokered by my partner Brian at Grit Brokerage. An inbound inquiry came in almost 2 years ago to the date we closed escrow. We quoted the buyer $75k at that time and after many follow up attempts the buyer never responded. Fast forward to February of this year – I decided to reprice and move some of my inventory to Godaddy buy it now landers. I think it's important change it up once in a while especially if your portfolio sales are quiet for a period of time because people monitor names they are interested in for changes. Sometimes you can spark a sale with this strategy. So, I put Finmed.com on ns5/ns6.afternic landers and set the price to $39,000. Shortly after the switch, the same buyer resurfaced and made a $20k offer through the old inquiry email string. They also made the same offer through a Godaddy broker that called me. I told Brian that I would accept $30k and after a couple days of negotiating he pulled them up and got the deal into escrow. I was happy with the price as I had acquired the name from DropCatch in 2019 for $436. I was also happy to pay Brian a commission for working the deal for me that took 2 years to close!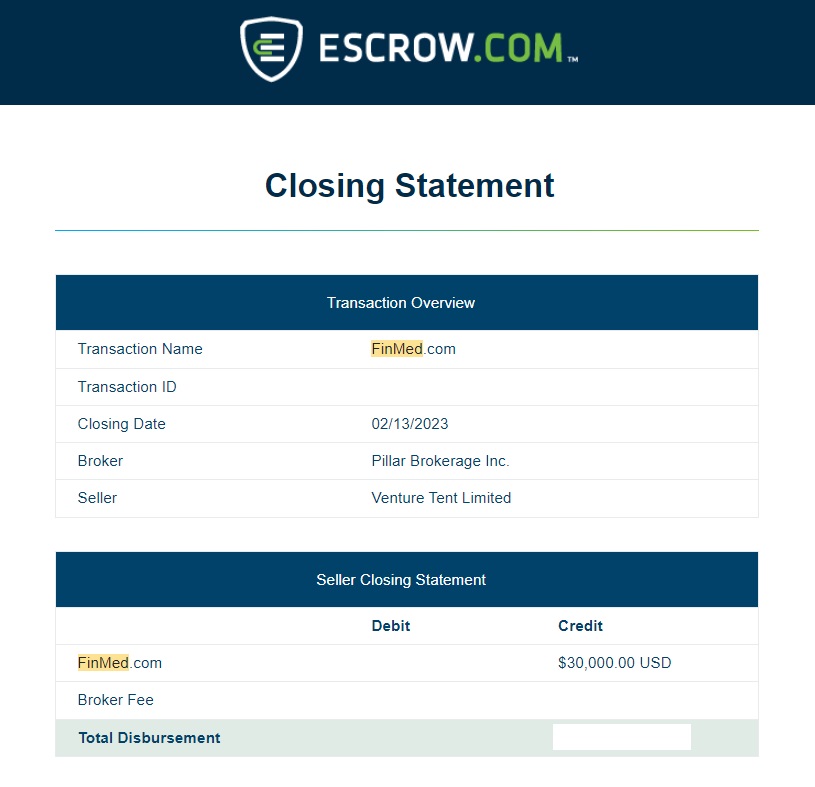 2. Osiris.net sale price: $23,500 – this is one of those dream flips for a domain investor. I acquired the name from NamePros in January for $400. After purchasing it I got curious about the .com so I inquired to see if it was for sale or if the owners may want to sell it through our brokerage. After a couple follow ups I received a resounding NO to my inquiry. I also noticed that other top extensions were either in use or not for sale. Osiris.xyz has a minimum bid of $129,888 on Godaddy. I figured if I priced the .net reasonably on domain marketplaces then it would eventually be a good option for a buyer looking to secure that word in a well recognized TLD. I just didn't know how quickly a buyer would surface and scoop it up. I put the name on the ns5/ns6.afternic landing page with a $25,000 buy it now price. In late April, I received an email from a Godaddy broker saying they have a buyer offering $20k. Maybe if I stuck to my guns and didn't lower the price it would've sold for the full BIN, but I was very happy with that number and potential for a quick turnaround. I wanted to get the deal done. I told the Godaddy broker I'd do it if I could net $20k. The next day, I heard from the broker that they had the buyer up to their best and final offer of $23,500 and I would net $19,975. I accepted and the deal was completed in less than a week. That was by far my fastest flip for that kind of return.